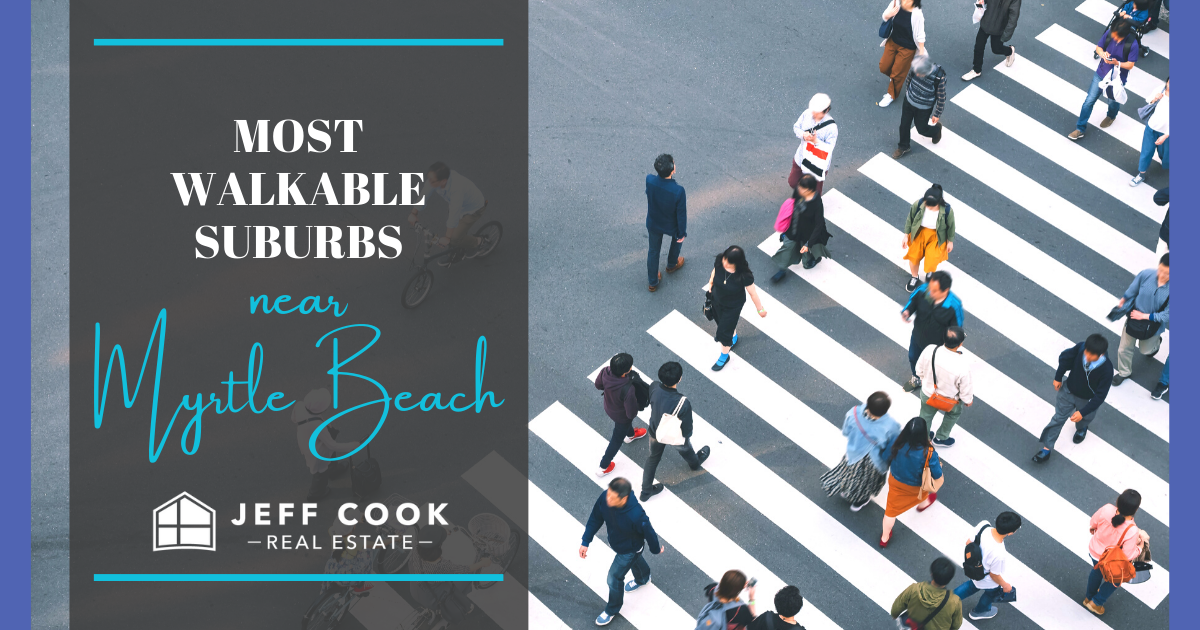 Myrtle Beach, South Carolina, is a popular tourist destination for its long beaches, warm weather, and fun entertainment. Though there are many different areas to explore in and around Myrtle Beach, some smaller, more walkable suburbs are close by to the city. For anyone who is contemplating relocating to the greater Myrtle Beach area, a walkable community may be an important factor on your list of where you want to live.
The suburbs below are all great options to look further into if you would like to move to or visit a walkable city near Myrtle Beach, South Carolina. Certainly, there's no shortage of things to see and do. Read more to discover the best walkable suburbs near Myrtle Beach today.
Murrells Inlet
Murrells Inlet Amenities
Murrells Inlet Marshwalk
Inlet Sports Lodge
Brookgreen Gardens
Morse Park Landing
Wachesaw Ball Park
Blue Wave Adventures Dolphin Watch Tour
Lost At Sea Memorial
Murrells Inlet, the fishing village said to have once been home to the infamous pirate Blackbeard, is a community that many enjoy walking for its various marsh views and entertainment spots. Located in Georgetown County and only 10 miles from Myrtle Beach, nature-lovers love to take advantage of Murrells Inlet's marshes, parks, and ocean-front activities such as boating and fishing. Not surprisingly, this beachfront community is nicknamed the "seafood capital of South Carolina" and has many waterfront dining options with delicious fresh seafood and spectacular nature views.
There are many places to enjoy a nice walk or leisurely stroll in Murrells Inlet. Brookgreen Gardens, voted one of the top 10 Best Public Gardens in the U.S. by TripAdvisor, is a beautiful area founded in 1931 that offers a selection of tours, programs, and exhibits for all ages. Another popular place to walk around town and enjoy entertainment in Murrells Inlet is at the popular Murrells Inlet Marshwalk. This half-mile stretch of wooden boardwalk along a natural saltwater estuary is a fun place for visitors and residents alike to enjoy drinks, food, shopping, live music, and events.
Surfside Beach
Surfside Beach Amenities
Adventure Falls Golf
Waccatee Zoo
Wild Water & Wheels
Surfside Pier
Ripley's Aquarium
Movie Theaters
Public Library
Fuller Park
All Children's Park
Nicknamed "The Family Beach," Surfside Beach in Horry County features two miles of oceanfront view along the Atlantic Ocean. This community has a lot to offer on its oceanfront, too—its fishing pier, numerous restaurants, hotels, condos, and more. This town has 36 access points to its beaches, including wheelchair access and beach wheelchairs available for rent.
Surfside Beach is such a walkable community that it allows its residents to drive golf carts around the neighborhood within a four-mile radius of their address. The residents note that it tries to keep a small-town, laid-back feel. They strive to provide a quiet town that you can enjoy while still being close to a lot of entertainment.
North Myrtle Beach
North Myrtle Beach Amenities
Barefoot Resort & Golf
Cherry Grove Fishing Pier
Briarcliffe Acres
O.D. Pavilion Amusement Park
One of the primary tourist towns along Myrtle Beach, North Myrtle Beach, has many walkable places to offer tourists and residents alike. North Myrtle Beach was created in 1938 from four existing municipalities.
This beach is said to be the home of the Shag, a popular dance that was named the official state dance of South Carolina in 1984. So besides walking, you may choose to do the Shag all the way through this city! North Myrtle Beach offers beautiful beaches, wineries, and entertainment like pirate cruises, a safari, an amusement park, and more to enjoy. With so many places to go, you can definitely be sure to wear your walking shoes in North Myrtle Beach.
North Myrtle Beach Hotspots
Atlantic Beach
Atlantic Beach Amenities
Atlantic Watersports Parasail
Memorial Day Weekend Festival
Beach access
Nicknamed "The Black Pearl," this small town has a total area of 0.2 square miles and at the 2010 census only had a population of 334 people. Atlantic Beach is also one of the most historical towns in the Grand Strand. Nestled between Myrtle Beach and North Myrtle Beach, this small stretch of land is home to the well-known and highly visited Atlantic Beach Memorial Day Black Pearl Cultural Heritage and Bike Festival.
This close-knit community on the beach enjoys its entertainment and has a lot to offer in a small, highly walkable community.
Socastee
Socastee Amenities
Doc Antle's Myrtle Beach Safari
Beach Family Worship Center
Carolina Improv Company
Home to one of the 10 swing bridges in South Carolina, Socastee is another historical town near Myrtle Beach. The Socastee Swing Bridge was built in 1935 and still swings on a regular schedule. Rich with history and as a town with an Indigenous American name, Socastee is also home to the annual Socastee Heritage Festival every April, which draws large crowds for this popular event.
With the Intracoastal Waterway running through the town, Socastee also offers many water sports and entertainment, as well as the popular Doc Antle's Myrtle Beach Safari.
Discover Your Walkable Myrtle Beach Community
If you'd like to live close to Myrtle Beach in a wonderful walkable community, then the neighborhoods on this list are some great options for you. Whether you'd choose a larger city with many walkable areas or a town that you can literally walk through yourself in under ten minutes, there are many walkable suburbs near Myrtle Beach to discover. Hopefully, you've found the one that you'd love to move to, whether your dream home is tucked away in a quiet neighborhood or right on the waterfront with lively entertainment next door.