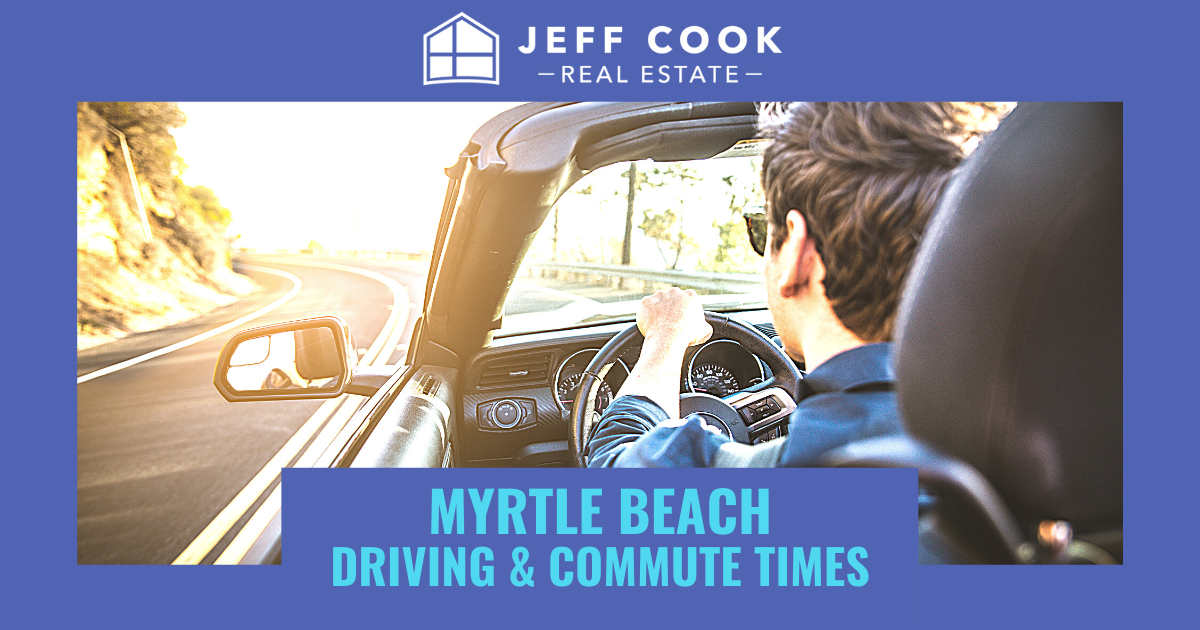 Myrtle Beach, SC Driving & Commute Times
Getting around in a new place can be challenging. Often, it is hard for people to figure out which roads are the most convenient, where to find parking, and what types of unspoken rules are known to locals but a surprise to newcomers. For those new to Myrtle Beach, understanding this information in advance can help quell any worries that people may have, and make their drive easier throughout the city.
Get to Know Myrtle Beach's Major Roads
Navigating the 60 miles of beaches that make up the Grand Strand can be intimidating. However, once people are familiar with the major highways in Myrtle Beach, getting around the area can be easy.
One of the keys for an easier drive is for people to find the main connector roads. There are three major roads that run north to south, and three that run east to west. S.C. 31, also known as Carolina Bay Parkways, runs from S.C. 9 in Little River over to S.C. 544 in Socastee. This is a true bypass road without traffic lights, and makes it easy to get to where people are going. The U.S. 17 Bypass runs from North Myrtle Beach to Murrells Inlet. The third major north/south road, U.S. 17 Business goes straight through the heart of the Grand Strand.
U.S. 501 is an east/west road that serves as the traditional route to the beach. While it's the most direct, some people find the traffic heavy. S.C. 22, also known as Veterans Highway, is a multi-lane expressway that allows access to many northern parts of the Grand Strand. S.C. 544 runs from the Coastal Carolina University area over to the Surfside Beach area, ending at U.S. 17.
What to Expect During Rush Hour in Myrtle Beach
The population of Myrtle Beach has grown far more quickly than the infrastructure to support it. There is not a significant mass transit system, which means that over three-quarters of drivers are on the road alone in their own vehicles.
Residents say that the busiest times to be on the road are during morning and evening rush hour. The heaviest traffic runs from 4 p.m. to 7 p.m. on weekdays. If at all possible, people should avoid the 501 during that time. Locals also warn this time of day is especially accident-prone.
Lunch-hour traffic is not as bad, allowing workers to get out of their office for a bit to run some errands or grab a bite to eat.
All that said, traffic and commute times in Myrtle Beach are not as severe as they can be in other metro areas. The average commute time reported by residents was just 16.5 minutes, allowing for 10 more minutes at home than the US average of 26.4 minutes each way.
Parking in Myrtle Beach
Myrtle Beach typically has ample parking, and many times of year, this parking is free. During the off-season, which usually runs from November 1 to February 28, parking meters are removed in many areas of Myrtle Beach. Municipal parking lots also typically offer free parking during that time of year.
When parking meters are in effect, people should check to see not just how much they cost, but how long they are allowed to park in specific areas. Some parking meters allow for all-day parking, while others have time limits, such as three-hour parking, before a person must move on.
People are advised to bring coins along with them when they plan to park throughout the city, as some meters must be paid with change. Those who do not have enough change can call the office at 843-626-PARK (626-7275) to have a city ambassador provide the change that is needed to pay the parking fee. Other parking meters have pay stations located near them that allow visitors to charge parking to their credit or debit cards. In some cases, people can opt to pay for a full day's parking at a discount. Long-term parking is available at the Myrtle Beach International Airport for $7 to $9 a day.
Additional Tips for Driving in Myrtle Beach
Myrtle Beach is laid out in a grid pattern with numbered blocks running east and west. First Avenue is the road that divides the city between north and south, then numbers run up in each direction. In heavy traffic areas like Kings Highway, drivers can often save time by going either one block north or south to cut down on travel time.
In the state of South Carolina, seatbelts must be worn by all passengers. Drivers are also required to turn on headlights any time windshield wipers are on. Turn signals are required, and they must be used 100 feet before an intended turn.
Myrtle Beach is a place with a lot of outdoor recreation, and that includes bicycling. Cycles can be less visible, so it is important for drivers to keep an eye out for them. Bikes in South Carolina have the same rights as cars. They also have the same responsibilities and must observe speed limits, traffic signals, and right of way.
When leaving a parking lot, traffic laws require the driver to stop and yield. This is important for drivers to remember, as many establishments do not have stop signs posted at the entrances of their parking lots.
Regarding right of way, friendly motorists cannot legally wave cars into their lane if that car does not have the right of way. While this can seem like a warm gesture, if it results in an accident, the driver who did not have the right of way could find themselves at fault.
Plan Your Drive in Myrtle Beach
By remembering the traffic laws, tips and tricks, and the usual customs in a new place, it can be that much easier and stress-free for drivers to get around. Newcomers can easily explore the Myrtle Beach area in their cars. By memorizing a few major roads and using a bit of logic to figure out the rest, most people will be exploring new locales with ease in no time.