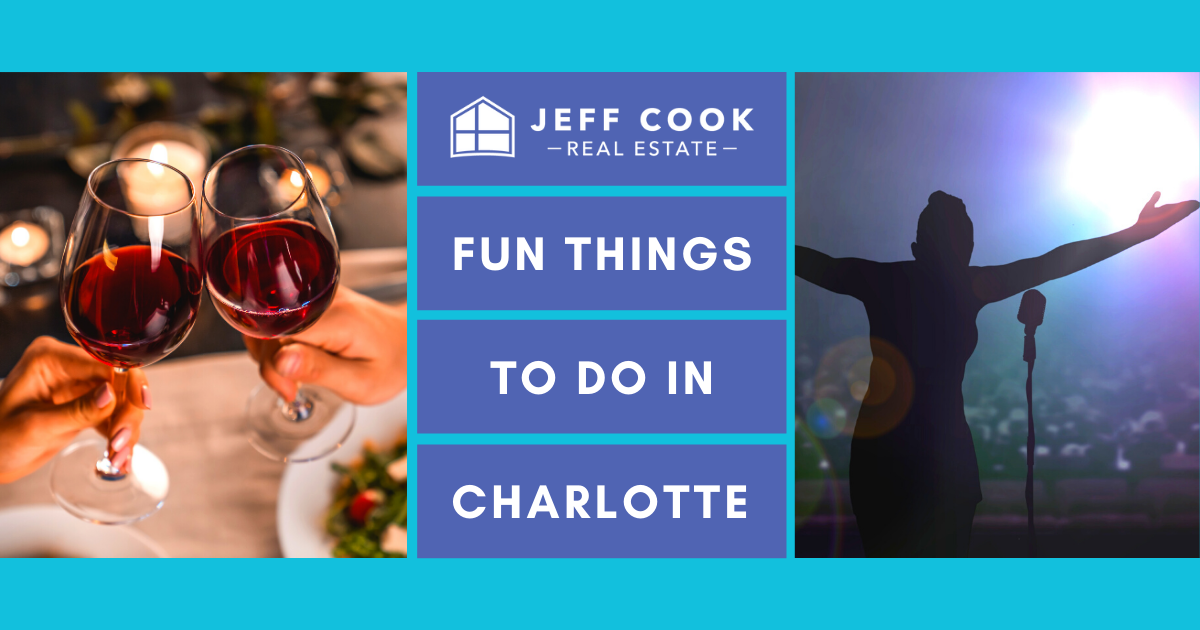 Best Things to Do in Charlotte: Charlotte, NC Activities & Recreation Guide
Charlotte, North Carolina, the most populous city in the state, was named as the country's fastest-growing metro area between 2004 and 2014. This popular tourist destination has a lot of sights to see. Whether someone lives in or close to the city, is contemplating moving here, or would like to visit Charlotte, there are many things to do and see that anyone would enjoy.
Charlotte Outdoor Adventures
For outdoor aficionados, there are some great outdoor activities to enjoy in Charlotte, North Carolina. With a humid, subtropical climate, people can spend their time outdoors in the city pretty much year-round.
Parks
Parks in Charlotte
Freedom Park
Romare Bearden Park
Park Road Park
Latta Park
First Ward Park
The parks in Charlotte are a mixture of city and secluded, with a common theme of beautiful greenery in each. With over 200 parks in Mecklenburg County, people are sure to find a park that suits their interests and needs.
Freedom Park is an almost 100-acre park featuring a 7-acre lake, batting cages, four baseball fields, four soccer fields, and 12 tennis courts, amongst many other possible activities. This park hosts a variety of athletic events and is popular for many sports.
Those looking to connect more with nature can visit the Reedy Creek Nature Center and Preserve. The paths and trails here go on for over 10 miles, featuring some beautiful foliage and protecting over 700 acres of habitat for all sorts of flora and fauna.
Some other popular parks in Charlotte include UNC Charlotte Botanical Gardens, Latta Plantation Nature Center and Historic Museum, and William R. Davie Park.
Water Recreation
Water Activities in Charlotte
Fishing
Boating
Water parks
Fishing
Because it can get hot and humid during the summer months in Charlotte, there are many water activities to help people have fun and cool down throughout the city. The U.S. National Whitewater Center has 1,300 acres on the Catawba River and promotes access to outdoor activities for all. Kayaking, stand-up paddleboarding, and even whitewater rafting is also available.
Motorized water sports enthusiasts can rent jet skis by the hour or for a full week or weekend with Aquaventure Watercraft Rentals. Featuring tunnel slides, a lazy river, and tall water slides, visitors to Carowinds' Carolina Harbor Waterpark can splash around with their whole crew.
A more low-key water activity that people may want to try out is floating down the Catawba River. They can grab some drinks and reserve their tubes with Rockin' River to float three miles from the Lake Wylie Dam to River Walk.
Hiking & Biking Trails
Trails in Charlotte
Little Sugar Creek Greenway
Clarks Creek Greenway
Piedmont Prairie Trail
Mallard Creek Greenway
Briar Creek Greenway
There are many trails to explore in Charlotte, whether someone is a hiker or mountain biker.
Within an hour of Charlotte, there are some great bike trails to try out. Beginner mountain bikers may want to check out Renaissance Park, Landsford Canal State Park, or McAlpine Creek Greenway/Park. For a bit more advanced riders, there is Colonel Francis Beatty Park's 7-mile trail, or Anne Springs Close Greenway, which also offers bird watching, camping, fishing, and a summer concert series.
For those who would rather explore on foot than on wheels, there is a variety of hiking trails to discover, as well. 8th Street Greenway is an easy half-mile loop, or some moderate and harder trails include the Charlotte Rail Trail, Little Sugar Creek Greenway, or Twelve Mile Creek Trail.
No matter how one chooses to spend their time outdoors, they are sure to find an outdoor activity to enjoy in Charlotte.
Shopping Centers in Charlotte
Belgate Shopping Center
The Arboretum Shopping Center
Park Road Shopping Center
Galleria Shopping Center
Northlake Mall
Perhaps checking out the stores and spending some money is on the to-do list while in The Queen City. With many fashion-forward shops and boutiques, Charlotte is known for high-end shopping.
With a retail space of over 115,000 square feet, Atherton Mill and Market hosts popular nationwide retailers such as Warby Parker, Anthropologie, Free People, and West Elm. Those interested in unique and eclectic shops can visit the North Davidson neighborhood. Ruby's Gift offers great gift ideas like pottery, jewelry, and home goods for new homes, while Summerbird has high-end women's fashion at affordable prices.
But that isn't all: people can also explore other shopping centers such as SouthPark Mall, Sleepy Poet Antique Mall, Charlotte Premium Outlets, Concord Mills, or many other shopping centers for a variety of items available for purchase.
Charlotte Restaurants
Restaurants in Charlotte
The Fig Tree Restaurant
Alexander Michael's
300 East
BrickTop's
Luce
The King's Kitchen
Of course, people must try some local food while in this southern city! Charlotte has a great variety of different cuisines and types of restaurants to taste-test, and people will want to try as many as they can.
Those with a flexible budget can visit the upscale restaurant Halcyon, Flavors From the Earth, or the old-school Charlotte staple Beef 'N Bottle. With locally sourced, quality ingredients, Halcyon's signature burger with a caramelized onion marmalade is a standout dish. Beef 'N Bottle's 16-ounce, choice-cut ribeye features a choice of side such as a baked regular potato or sweet potato, fried cheesy potato, buttered broccoli, creamed spinach, and more.
Those searching for more budget-friendly options may want to taste the pizza, lasagna, or Penne alla vodka at Mama Ricotta's Italian Restaurant, some southern cooking staples such as hush puppies and fried chicken at Haberdish, or some tasty seafood such as Carolina shrimp calabash or King Crab along with a luau-themed cocktail at Hello, Sailor.
Arts & Culture in Charlotte
After enjoying the outdoors or some delicious meals, people may want to discover the arts and culture that Charlotte has to offer.
Museums
Museums in Charlotte
Discovery Place Science
Historic Latta Plantation
Carolinas Aviation Museum
Morrison Motor Car Museum
The Charlotte City Center boasts the largest concentration of art museums, galleries, and theaters. The Bechtler Museum of Modern Art and the Mint Museum UPTOWN are some popular choices for those who are art connoisseurs. Offering contemporary, modern, American, and European art and culture, there is a lot to explore at these museums.
For a more interactive experience, the Levine Museum of the New South brings visitors on an industrial tour through Charlotte's history.
Art Galleries
Art Galleries in Charlotte
Mint Museum Randolph
Mint Museum UPTOWN
Levine Center for the Arts
There are many impressive art galleries to stumble upon in Charlotte, showcasing art from local artists as well as art from around the world.
SOCO Gallery, located in a 1920s bungalow in historic Myers Park, showcases six curated exhibits annually from local and worldwide contemporary artists. Hidell Brooks Gallery differs in what it showcases, featuring both paintings and sculptures for the past 19 years.
SOZO Gallery, located in the Hearst Tower in the heart of Uptown Charlotte, brings affordable, yet high-quality pieces from many local artists.
Dance & Theatre
Performing Arts in Charlotte
Belk Theater at Blumenthal Performing Arts Center
Knight Theater
McGlohon Theater
Booth Playhouse
Perhaps live art is more one's style, and Charlotte has this to offer, as well.
The Central Piedmont Performing Arts & Events Facilities has full-service performing arts and events facilities for presenters such as symphonies, dance companies, or even formal meeting spaces.
Blumenthal Performing Arts, on the other hand, hosts an array of events such as concerts, Broadway and theater shows, festivals, speakers, and comedy events. The Theatre Charlotte, another unique space, is a local theatre that offers a creative outlet and entertainment with past shows including A Christmas Carol, The Taming of the Shrew, A Streetcar Named Desire, The Crucible, and Dreamgirls.
Charlotte Nightlife
Charlotte Bars and Clubs
Howl at the Moon
Tilt on Trade
Whiskey Warehouse
White House Night Club
Roxbury
After the day winds down and people are ready for some nighttime fun, there are many options to check out in Charlotte.
For those who love live music, there are a few must-sees. From May through September, people can enjoy live music outdoors on Thursday and Saturday nights at River Jam, put on by the U.S. National Whitewater Center (USNWC). A few other popular music venues in Charlotte include enjoying a concert at Bojangles Collesium, The Thirsty Beaver Saloon, or the Spectrum Center, amongst others.
Bars and breweries in Charlotte include Soul Gastrolounge, Snug Harbor, Sycamore Brewing, and Wooden Robot Brewing.
Discover Charlotte
No matter when or why one chooses to check out Charlotte, North Carolina, there are many activities, both indoor and outdoor, to discover in The Queen City. Though a decent number of places and things to enjoy when exploring Charlotte was covered, there is even more to experience.