2020 Home Design Trends
Posted by Thomas "Jeff" Cook on Wednesday, February 5, 2020 at 11:29 AM
By Thomas "Jeff" Cook / February 5, 2020
Comment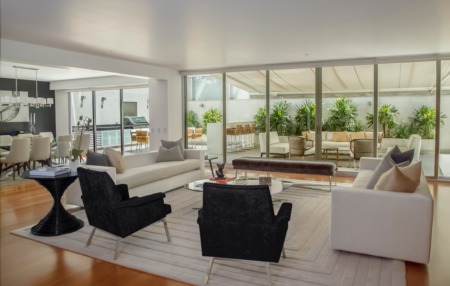 The new decade is bringing new design trends and it's a perfect time to spruce up your home. From natural elements, all the way to mixed metals, there is something for everyone to be able to make their home truly unique. If you are looking for the newest designs for home interiors, here are some trends that you will be seeing in 2020.
Velvet
A nice blend of comfort with a little bit of luxury, velvet will certainly be making an appearance in many designs. With a better quality of materials and several color options available these days, velvet furniture can make a home stand out. Sofas, accent chairs, and throw pillows are just a few options as the possibilities with velvet are truly endless.
Wallpaper
Another trend that is popping up again is the use of wallpaper. The use of wallpaper for accent walls or small spaces such as foyers or powder rooms are a big hit right now. Floral patterns are extremely popular as are bold patterns with pops of color. With a ton of options available, wallpaper is a great way to show off your style and personality.
Vintage
Vintage accents were popping up in 2019 and they are here to stay in 2020. Traditional pieces from the 1800s make beautiful accents for today's modern design. A big difference is that these vintage pieces are to be used as statement pieces rather than throughout the entire room as they have been previously.
Black and White
These contrasting colors are big for 2020 and can be incorporated pretty much anywhere in your home. This sophisticated look can be used with furniture, walls, flooring, and even artwork to create a stunning appearance to any space.
Colorful Kitchens
Say goodbye to all-white kitchens and bring in the color! While white kitchens continue to be beautiful people now are adding pops of color throughout the space. Bold colors on base cabinets, gorgeous patterned backsplashes, and fun accent walls are just a few things to make your kitchen stand out.
Mixed Metals
The use of mixed metals like copper, silver, gold, and tin are going to be huge in 2020 especially in kitchens and bathrooms. Iron and bronze fixtures go well together as silver looks stunning with brown metals and can create a gorgeous industrial feel to any space. Experts advise to not use more than three different metals as it can then become overwhelming.
Geometric Patterns
Geometric patterns were climbing in 2019 and they haven't slowed yet. The use of these particular patterns are pretty much endless and be incorporated anywhere in your home. They should be used in small doses as too much can be overwhelming, so creating a balance is important to make sure the patterns don't take over space.
Neutrals
Although big design trends say color, neutrals are still here to stay. The use of warm colors like taupe or gray make rooms feel clean and airy and with the addition of wood accents give the space a nice cozy feel. Neutrals can be used in fabrics too like bedding, sofas, and rugs to create a calm beautiful space.